Login and Registration
Create a New Account
September 17, 2023: 华裔社区
亲爱的华裔社区朋友们,
感谢你们一直以来的慷慨支持。然而,一起令人震惊的 事件还未有一个合适的解决,我们必须继续坚持下去。上周 9月11号,威廉姆森县发生了一起 令人痛心的事件,一名无 辜的6岁孩童遭受了一次可怕的袭击。清晨还未天亮,歹徒 从后院用棒球棒破⻔窗而入,砸坏家里的摄像头和报警系 统,径直走向二楼来到孩子房间用棒球棍砸向孩子。孩子已 经在ICU一周,医生从孩子头部取出血块和碎⻣,现在仍旧 生死未卜。
这让我们痛苦不已,因为没有任何孩子应该忍受如此可 怕的遭遇。 罪犯已经被捕,但我们仍需要确保他们受到应 有的惩罚。现在,我们需要你们的声援。请拨打威廉姆森县 地区检察官办公室的电话:512-943-1234,表达你们对这起 暴力事件的愤怒,并要求严厉的惩罚。你们的声音将有助于 确保我们社区变得更加安全,并向潜在的罪犯传递一个强烈的信息,即罪行不会被放任,任何罪犯将为此付出代价。
让我们团结一致,捍卫我们社区的和谐与宁静。让我们 告诉这些罪犯,我们保护社区的决心是坚不可摧的,我们对 正义的追求是一致的。请周一到周五拨打检察官办公室热线 电话:512-943-1234。以下电话模版供您参考,感谢支持。
筹款链接: https://www.gofundme.com/f/help-sweet-jeremy-join-us-in-his-fight-for-life
相关当地新闻可以点击查阅:https://www.kvue.com/article/news/crime/father-speaks-out-after-6-year-old-son-attacked/269-d31ab78e-a4ee-432d-aa7d-8f41a804fcd9
August 09, 2023: Fall Class Overview: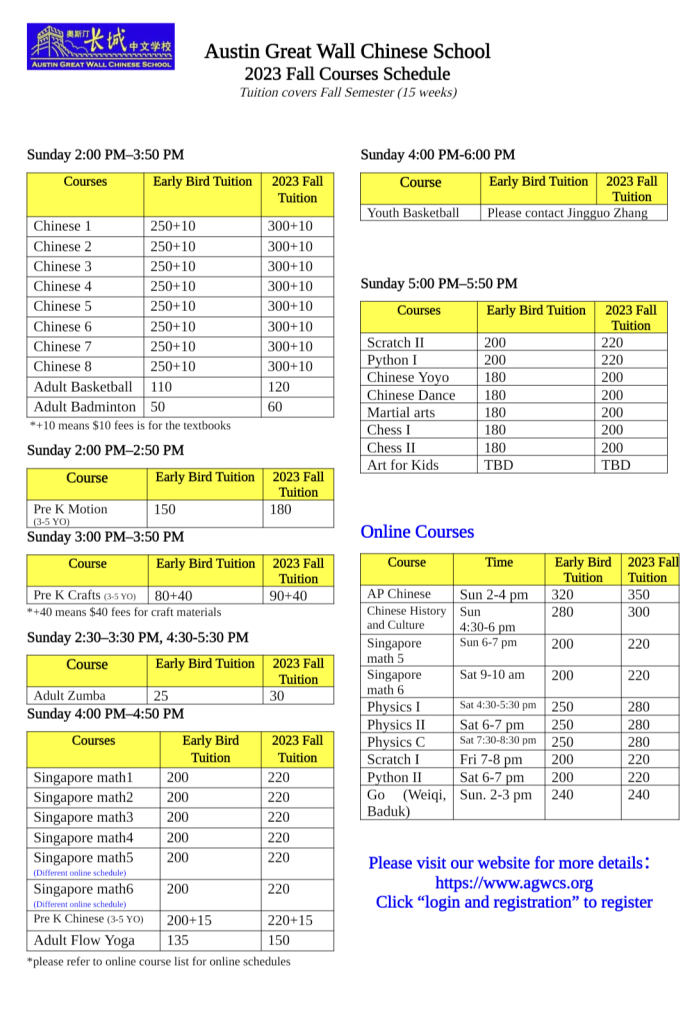 * 长城中文学校秋季课程报名啦
* 长城中文学校Chess课介绍
* 长城中文学校围棋课介绍
* 新加坡数学课程介绍
* 长城中文学校AP中文课介绍
* 长城秋季课程:少儿中国舞
* 长城课程介绍:"三常"课
* 长城中文学校:美术课介绍

May 27, 2023: Summer Class Overview
* Introduction to Programming with Scratch and Storytelling
* Chinese Yoyo
* F=ma Physics Competition
* Flow Yoga
* Get You Prepared to SAT
* Introduction to Java
* Introduction to Python 3
* Vocabulary Intensive Boot Camp (1st-3rd grade)
* English Creative Writing Intensive Boot Camp (3rd-5th grade)
* Chinese Pin Yin
Feb 19, 2023: AGWCS Book Fair (coming soon, click to see details)
Feb 19, 2023: Full Video of AGWCS 2023 Chinese New Year Festival
Jan 29, 2023: AGWCS 2023 Chinese New Year Festival, Click to read the full story
Jan 23, 2023: We wish you a happy, healthy, and prosperous Chinese New Year of Rabbit!
Click to read the full story by Angela Shen, Fox 7 Austin.
Jan 22, 2023: HAPPY CHINESE NEW YEAR
Welcome to AGWCS 2023 Chinese New Year Festival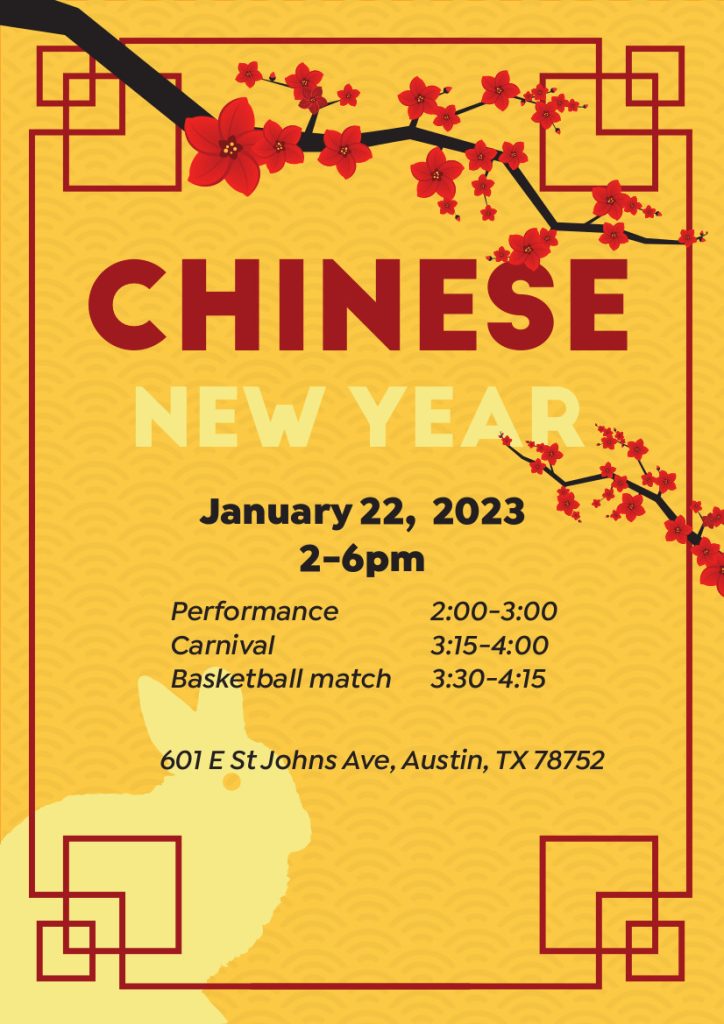 Dec 5, 2022: Registration for Spring 2023 starts.
* Spring class overview
* Intro to Chess
* Intro to Computer Science in Python
April 2, 2022: Course Info of Summer 2022
* Summer class overview
* Pre-algebra 5, by Baojiang Chen
* Beginning Programming with Karel and Python Syllabus, by Chuanqi Chen
* Introduction to Chinese Geography, History and Culture By Cicy Lee
Nov 18, 2021: Job Opportunity at AGWCS *NOW*
March 10, 2021: Congratulations to Aoli Xu, an AGWCS student, and her Chinese teacher, Wei Bao, winning the first place award of the World Chinese Student Essay Competition. Click to watch the recording of the Chinese study experience sharing meeting.
August 20, 2020: Congratulations to Kevin Xue, our 4th grade student in AGWCS, on winning the Star Trophy of the Oversea Youth Speech Competition held in summer 2020!
July 28, 2020: Examples of awarding Chinese essays by students of AGWCS.
Austin Great Wall Chinese School is the biggest Chinese school in the central Texas area. AGWCS offers regular Chinese (pre-K to AP), Math (K to 5) and other classes for both children and adults such as Art, Taiji (Tai-Chi), Marshall Art, Chess, Badminton, Basketball, Yoga, and Zumba. See "Courses" on the left panel for details.
For Chinese AP class students, if they do not pass the Chinese AP test, they can re-take the class for FREE.
Mailing address:
AGWCS
P.O. BOX 200964
AUSTIN, TX 78720
In-person classroom location:
Webb Middle School
601 E St Johns Ave
Austin, TX 78752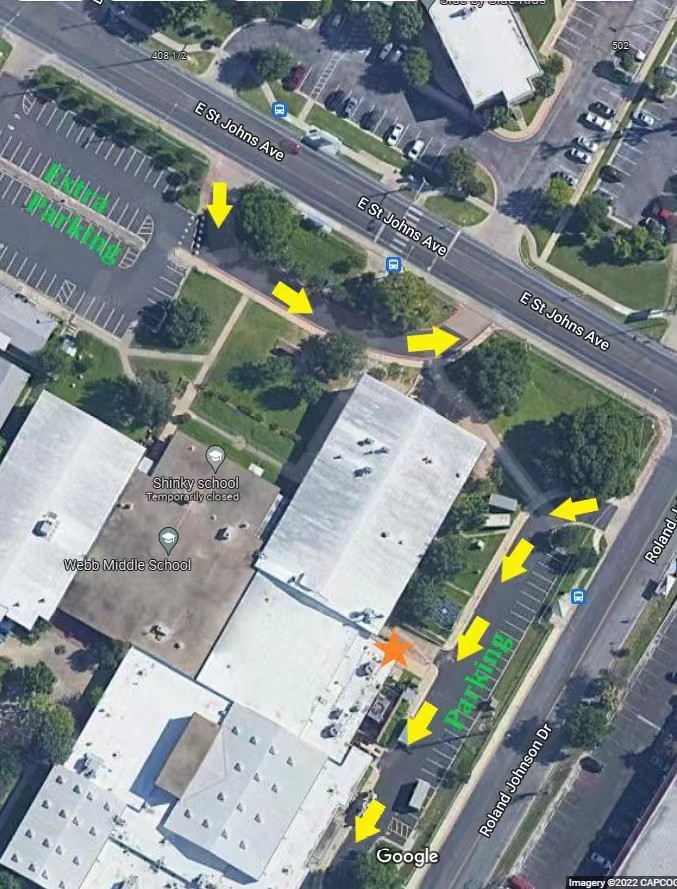 If you would like to know more about AGWCS, click "About Us" or "FAQ" in the upper-right corner of this page. If you have additional questions, contact us by phone or email.
For Inquiry or Assistance:‪(512) 436-3739‬
Email: board@agwcs.org
---